NAHC's Community Wellness Department (CWD) provides inclusive mental health, preventative care, and social services with a focus on advocacy, culture, education, and relationship building. Our holistic model of care guides CWD in treating the entire individual through various programs, services, and resources. Using harm reduction techniques with a trauma-informed approach, our staff creates a safe space to meet members where they're at. We aim to provide the best possible care to support with reclaiming identity, restoring balance, and building physical, emotional, and spiritual health for everyone who walks through our doors.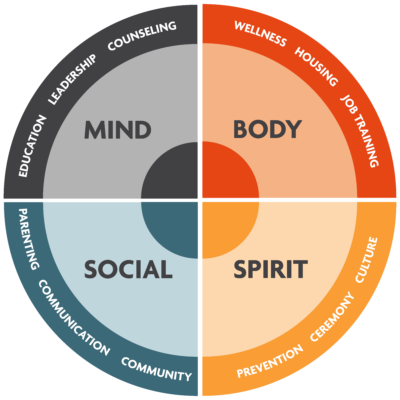 NAHC's Community Wellness Department commits to holding cultural practices and behaviors that respect all voices and diverse perspectives and experiences. We are passionate about embracing the rich identity and traditions of all people who receive services and work in our organization.
Our Programs and Services
The Community Wellness Department's Elder program was developed to meet the needs of our elders and ensure they receive the proper care to remain safe while staying connected with the community. Through cultural events, care coordination, and wellness plans, elders have a place that they can thrive.
The Community Wellness Department is committed to empowering Native American youth to reclaim space by building community in a safe and inclusive environment. Our program offers various groups, events, and services rooted in cultural and traditional practices for youth of all ages to participate in.
The Community Wellness Department provides wrap-around services focusing on healthy starts and building community. Through cultural events, parenting support, and perinatal connections, youth and their families receive the assistance they need to build healthy and thriving futures.
The Community Wellness Department is dedicated to building resilience and power through strength-based, trauma-informed care. We provide many community events and services, from Traditional Healing sessions to ESL classes, and food pickups that are safe spaces where everyone is welcome.
Locations
Oakland | American Indian Human Services Building
3124 International Boulevard
Monday – Friday
8:30 am – 5:00 pm
(510) 434-5421
OaklandCWD@nativehealth.org
San Francisco | Native American Health Center
160 Capp Street, 3rd Floor
Monday – Friday
9 am – 5 pm
(415) 417-3556
SFCWD@nativehealth.org
Community Wellness Leadership Team
Anthony Guzman, MSW
Chief Cultural Officer
Tribal Affiliation: Northern Ute Tribe
Dallas Wahpepah
Community Wellness Site Director
Tribal Affiliation: Kickapoo, Sac and Fox, Ojibwe
Anna L. Kaminski, MPH
Senior Program Manager, Community Wellness Department
Christian Radziwon
Senior Program Manager, Community Wellness Department