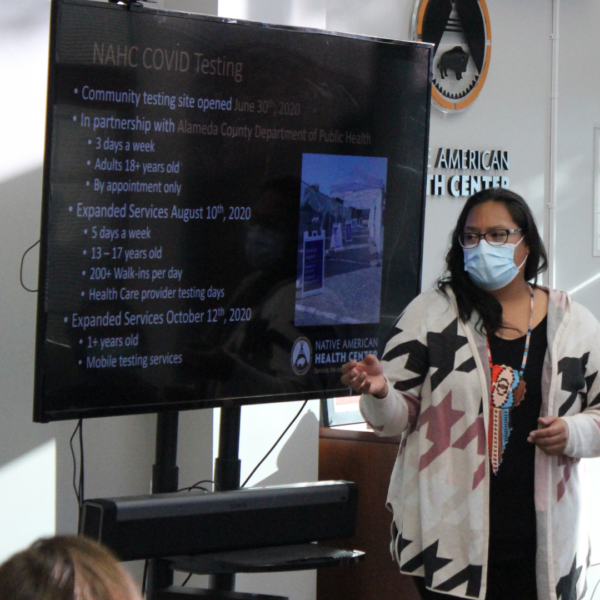 As one of the largest employers of American Indians in the San Francisco Bay Area, our staff reflects the communities we serve. We're a vibrant group of professionals focused on empowering community members to improve their lives. Our clinic is open to any and all people with a passion to serve. Hiring talented, dedicated, and goal-oriented individuals to make a measurable difference. NAHC is a certified Employee Retention Program Employer.
Open Positions
We face challenges together and can see the impact of our work. A lot of us have firsthand experience with the difficulties of navigating health care systems. We know what it's like to help a parent with limited English skills. We have empathy for the conditions we see in our members and are proud to use our deep understanding as a way to inform our practice.
Join our team, invest in the community, and leave your tracks behind at NAHC.
Why Work at NAHC?
As a team, we have successful, culturally specific, and fun community events that we work at and participate in. We help each other. We like to laugh. We work out together. We learn from each other.
"I work at NAHC because I care about our community values and members. I have been providing integrated care by engaging with each member as a whole person. "

Kathryn Budd, Peer Specialist III in Community Wellness
"I work at NAHC because I love working with the community and being able to provide help and translation to non-English speaking members. I provide integrated care by scheduling follow-up appointments, new patient appointments, and by helping to answer questions over the phone."

Yesenia Fuentes, Eligibility Specialist in Member Services
"I work at NAHC because my community is my family. Being with family every day is fulfilling. I provide integrated care by using years of experience to know what works, know what we have, know what doesn't work, and can bring that to the member."

Karen Harrison, Lead Registered Nurse
"I am NAHC! I believe it is important to provide our community with a warm welcome. Making them feel at home through cultural prevention groups, like they have a place to come to and feel a part of. To be included and not excluded."

Aurora Mamea, Program Manager I, Youth & Prevention in the Community Wellness Department
"It's a community-focused health organization staff with strong academic ties that build relationships with other community organizations. Staff members at NAHC work as a team. I provide integrated care by working with pediatricians in the community teaching dental health they can provide dental information/care to their patients."

Dr. Eric Smith, Pediatric Dentist 
Perks and Benefits
Health & Wellness Benefits
We value the health of our staff and pay 100% of employee medical, dental, and vision benefits, as well as life insurance. Plus we cover 85% of dependent monthly premiums.
Competitive compensation plan
We're a vibrant group of professionals focused on empowering community members to improve their lives and reward our staff through competitive compensation.
Tuition reimbursement
We have an annual 7 Generations reimbursement scholarship available on an annual basis to eligible full-time staff that provides scholarships towards tuition, test prep, and books. We also offer reimbursement and paid work hours for continuing education courses for licensed staff.
Save for your future
We offer a generous 7% match on your 403(b) contribution to your retirement account.