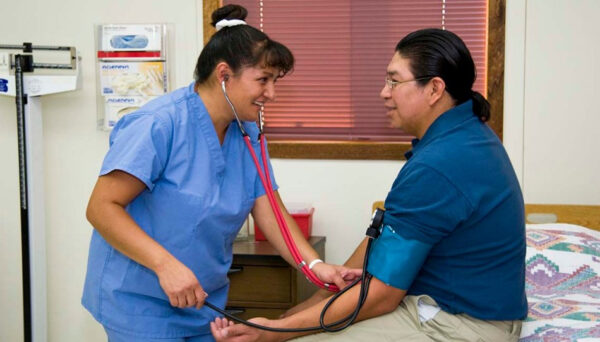 NAHC provides medical care to all in need regardless of age, gender, tribal affiliations, religion, sexual orientation, race, or ethnicity. We want the best for you, your children, and your entire family. We offer services to take care of the whole person with the hope of serving the whole family for the duration of their life.
For medical emergencies, always dial 911.
Pediatrics
Newborn and Well-baby Care, including routine checkups and immunizations
Urgent appointments for sick children
School physicals
General pediatric medicine, routine checkups, and immunizations
Nursing advice
Care coordination and case management
Women's Health
Complete annual exams, including pap smears
Family planning, including placement and removal of IUDs and birth control implants
Pregnancy testing
Acute and chronic gynecological health
Urgent women's health appointments
Nursing advice
Perinatal Health (Oakland site)
Our perinatal team believes in building supportive relationships and systems of care for you and your child.
Our holistic care includes:
Ongoing health care through pre-pregnancy, during pregnancy, and post-pregnancy
Full lab services
Perinatal and childbirth education classes
Nutrition counseling
Assistance in applying for Medi-Cal and other social services
Personal counseling and support groups
Postpartum care, including family planning
Breastfeeding support
Nursing advice
Adolescent Health
Pregnancy prevention
Confidential HIV and STI rapid testing and treatment
Confidential counseling
Referrals for behavioral health services
Nursing advice
NAHC also provides adolescent health services through its eight School-Based Health Centers.
Adult Medicine
General medical and preventive services
Confidential HIV and STI rapid testing and counseling
Minor surgical procedures
Nutrition counseling
Diabetes self-management and education
Evaluation and treatment for chronic diseases
Nursing advice
Care coordination and case management
Health Insurance
We are here to help you determine how your medical needs can be met. Medi-Cal, Medicare, private insurance, and sliding fee scale payments are accepted. Many people without insurance are eligible for programs that pay for their care. NAHC's Member Services Department will assist you with eligibility questions.
Meet Our Medical Providers
Gerard Jenkins, M.D., M.A., M.A.
Bonnie Trinclisti, FNP
Director of Clinical Services